Here's another potholder for my brother who is a WWII history buff and particularly has a passion for the history of the WWII airplanes and how the ingenuity of their design and special features helped win the war.
The interesting part of the project was trying to develop the pattern so B-17 read correctly on both side. I am proud to have figured it out and I really like the clever way I developed my chart for easy readability.
I used Lily's Sugar'n Cream 'Indigo' (navy) and Lily's Peaches & Creme 'Stars and Stripes (red, white and blue). The red in 'Stars and Stripes' bleed, to my horror, when I wet it to be blocked. And although I tried cold water rinsing and washing it with a variety things it still left white a tad pink. I highly recommend avoiding this color of their yarn for any project. Oh well live & learn. Photos above prior to washing, below with washing/blocking.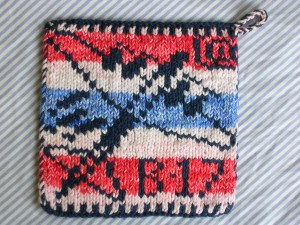 Other Things You May Like to Check Out: